Smokeless Moxa Sticks
Professional Smokeless Moxa sticks to boost your immune system, improve circulation and elevate your energy.
The thin, rigid, compressed smokeless moxa sticks are a solid stick and not hollow giving them a longer lasting burn. The sticks are made from the leaves of the special Chinese mugwort plant giving them a pleasant and uplifting smell. 
A perfect addition to your home pharmacy. Trying to figure out what you need to know when buying moxa? Check out https://www.youtube.com/watch?v=Ske-YGHujYQ&t=22s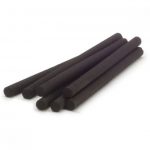 Each box contains 4 sticks 3.5"(L)x 0.2"(D)